93-year-old Chief Mbazulukike Amechi, one of Nigeria's living legends, former Minister of Aviation and Transportation in the First Republic, and a member of the House of Representatives on the platform of the National Council of Nigerian Citizens in 1959, spoke in Abakaliki during the Southeast stakeholders meeting with President Muhammadu Buhari who was on a two-day working visit to Ebonyi State. According to this statesman pointedly told Buhari.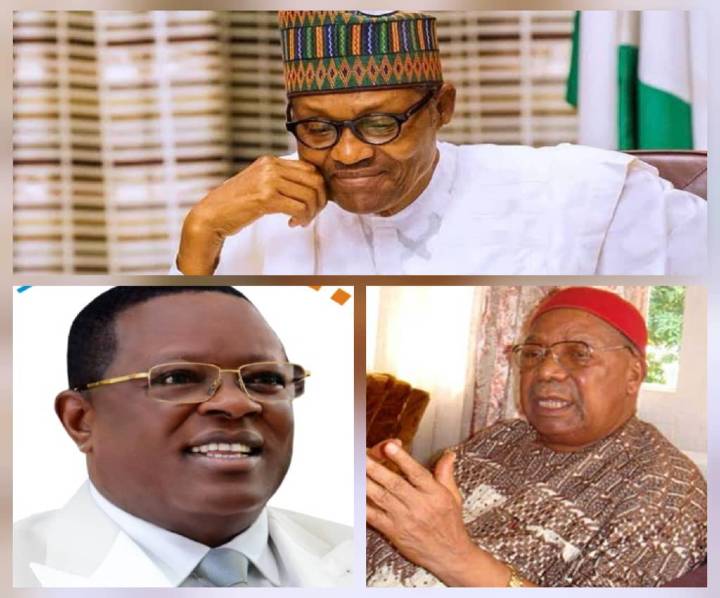 "I want to see peace in this country before I join my ancestors; I want to see peace in the Southeast, particularly where there is an upsurge of crisis and something that will lead to that peace is around the corner, and we are asking you to give me the mandate and I will provide you with ease. I guarantee you this, Mr President.
"We say in Igbo land that a madman is owned by his people. If somebody was mad yesterday, and on the guarantee of elders like me and other elders, I will bring him out, and that is to get peace. Help us to get peace, and I will give you peace in this part of this country and Nigeria because I am a Nigerian, and I took part in the struggle for the independence of this country.
In the same vein, the Chairman of the Southeast Traditional Rulers Council, Eze Charles Mkpuma, pleaded for the release of Mazi Nnamdi Kanu, the leader of the prescribed Indigenous People of Biafra (IPOB).
"We stand by you in all efforts to fight against insecurity in the Southeast and the country in general. We, however, plead with you as a compassionate father to temper justice with mercy in the case of your son, Nnamdi Kanu. We have started a dialogue to ensure that everyone who feels aggrieved is brought to a round table discussion.
After going through these pleas by this elderly statesman coupled with the Chairman of the South-East Traditional Rulers Council to President Buhari, I wept to see the sad state of the South East region where our people are being slaughtered like chickens daily by the so-called unknown gunmen and the economy of the area at the verge of total collapse because of the unnecessary Monday Sit-at-home. This month of May has 32days. Those in the South East have only nine days to carry out their business activities, and most of these days, our children are kept at home.
From Monday to Friday, this week alone has been declared sit-at-home week, thereby keeping everybody at home with little or no movement in all parts of the region's five States. It is reported that all the major towns and roads were deserted. One may think that those living in this country have all run away. What other punishment do we have to go through than this?
As I continued in my weeping, Governor Umahi came to my aid and restored hope by reassuring us all that President Muhammadu Buhari was not avarice to the release of Mazi Kalu or restoring peace to the South East. According to the Chairman of South-East Governors Forum and Governor of Ebonyi State, Engr. David Nweze Umahi, "We wished that it should be solved, and that's why I went to Mr President. And our leader, Chief Mbazuluike Amechi, has also gone to the President, and he agreed for a political solution, but it should be us that should initiate it,".
"And I am asking Ambassador Obiozor (Ohanaeze President); he is very slow about this because I had gone to the DG DSS. I had gone to the Attorney-General of the Federation, and they were ready to receive them from discussing. I had excluded myself so that politics is not adduced to it."
"So, we should be encouraging the president of Ohanaeze to work with the IPOB leader as Mr President suggested and then let them, you know, bring something before the Federal Government and say, 'These are what we are bringing. Onboard.' I think that the President is not opposed to that,"
The governor, who said he foresaw the growing insecurity in the South East, reiterated why his government opposed the Indigenous Peoples of Biafra (IPOB) from the onset.
He, however, said many people misunderstood him and "jumped into and used it for politics". Umahi lamented that the situation is now "a pain in everybody's eye" in the region.
MY PLEA:
Eze quoted Mr President as saying,
"I have listened carefully to the various appeals from the elders to the traditional leaders regarding a wide range of options. As I have said previously, this matter remains in the full purview of the court, where it will be properly adjudicated.
I worry for our hardworking and innocent civilians for whom life is already tough and will like to go out and earn a decent and honest living."
Eze as a stakeholder in All Progressive Congress (APC) been, the erstwhile National Publicity Secretary of the defunct nPDP, one of the bodies that saw to the birth of APC and a member of the APC Legacy Projects Media Team, I join other Leaders of the South East for Mr President to consider his statement that "My worry is for our hardworking and innocent civilians for whom life is already tough and will like just to go out and earn a decent and honest living." and free the innocent people of South East and come to our aid and release us from this bondage.
As the Elders have requested, release Mazi Kalu to them and let us see if peace can be restored to this region, and if peace is not restored, then the challenge becomes that of our Elders and Leaders, Eze pleaded.
Support InfoStride News' Credible Journalism: Only credible journalism can guarantee a fair, accountable and transparent society, including democracy and government. It involves a lot of efforts and money. We need your support. Click here to Donate