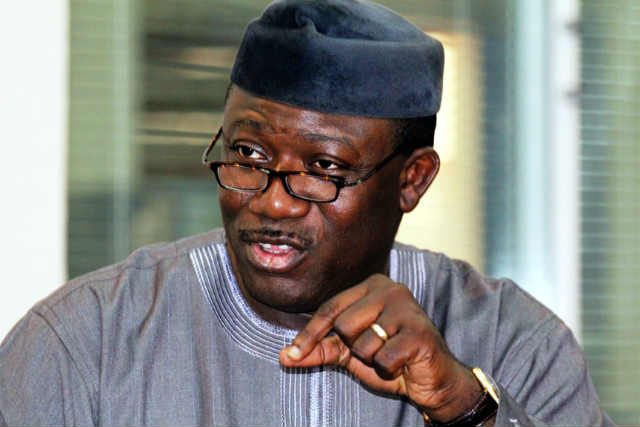 Ekiti State governor, Dr Kayode Fayemi has said Ekiti State is a very hard state to rule despite being among the least populated.
Kayode, who is celebrating one year of his second term today, said if you are linked to the grassroots you will not be able to win an election in Ekiti because "you have three million governors in Ekiti and everybody is opinionated. I am not a social animal. I don't go to parties but these days I do."
In a recent interaction with journalists in Lagos, Kayode, who said a lot of the legacy programmes of his first term were ignored by the immediate past administration of Mr Ayo Fayose, said he has re-launched the projects and programmes.
His words, "He listed his achievements in the last one year to include: regular payment of salary; increasing Ekiti share of Value Added Tax, VAT; paying part of salary arrears, which jumped from one month when he left office in 2014 to 10 months when he returned last year; fixing access roads; rehabilitating dams; constructing pipelines; rebuilding hospitals and schools; paying N5000 social welfare to the elderly; payment of WAEC and NECO fees of students, re-introduction of free education; school feeding programme; handing over mission schools to their owners; embarking on the proposed Ekiti airport project and agro-allied projects with the assistance of the World Bank and African Development Bank, ADB among others.
He also said it is unconstitutional to regard local councils as the third tier of government. His words "As far as we are concerned, the position of the NGF on the issue is the position of the law. There is no law that has been passed in the country on local government autonomy. There have been several attempts, but it has never gotten 24 states Houses of Assembly out of the 36 in the country to make it happen."
"Nigeria is not a three-tier federation; the talk about Nigeria being a three-tier federation is a distortion; it is just an aberration that we even have to go to Abuja to get approval on local governments.
"If you want to create 200 local governments, it is your business because you and your people in your state should figure it out. It should not be the business of Abuja because that for me is surreptitious unitarism.
"You cannot go behind to do what the constitution does not allow you to do and that was what informed our position at the NGF over the ridiculous instruction to banks.
"You know that you cannot confront us; you are now going to bankers. What is the business of the banks with the accounts maintained by the local government as long as the accounts are funded and the proper persons run the accounts?
"Besides that, what is the business of the NFIU on local government funds? When you read the NFIU law, NFIU monitors what is going on in the banking system, internationally and locally and if you have a specific case of money laundering, please bring it up. You cannot have a general rule to address a unique problem.
"You can't because you want to fight money laundering; you now say that states and local governments cannot run joint accounts, which is in the constitution of Nigeria. Section 162 and we have a case pending in court on the issue."
On workers in the state, "We don't want workers to down tools. You may recall that when the negotiations started the governors' proposal was N24,000. The negotiations went back and forth and we ended up with N30,000, and the governors in principle we said we will pay.
"However, in private discussions with the President, we made it clear that this is another recipe for a future bailout. When it was N18,000 we were struggling. I don't consider N30,000 a living wage in today's Nigeria, let's be frank. But you cannot promise what you don't have. We agreed N30,000; We all agreed that we will look for a way to boost the revenue going to the states. We have been working on that.
We don't want workers to down tools. However, we have also made it clear. During the tripartite negotiation, we made it clear and labour leaders agreed with us that a national minimum wage law is not tantamount to a general wage increase.
"The fact that we move people who are below N30,000 to N30,000 and above does not automatically mean that we do the same thing for people who are earning N400,000. It is a minimum wage law, not a general wage law.
"Consequential adjustment should not go beyond levels 8 and 9. We proposed a nine per cent increase for Levels 7 -12; and five per cent for levels 13 and above and they said no, they want 45 per cent for everybody. Of course, that is difficult, where are they going to get it from? This economy is in the doldrums. If you have an economy where your debt servicing is N2.4 trillion, what are we talking about? I hope good sense will prevail and they realise that the strike is a futile exercise."
Support InfoStride News' Credible Journalism: Only credible journalism can guarantee a fair, accountable and transparent society, including democracy and government. It involves a lot of efforts and money. We need your support. Click here to Donate