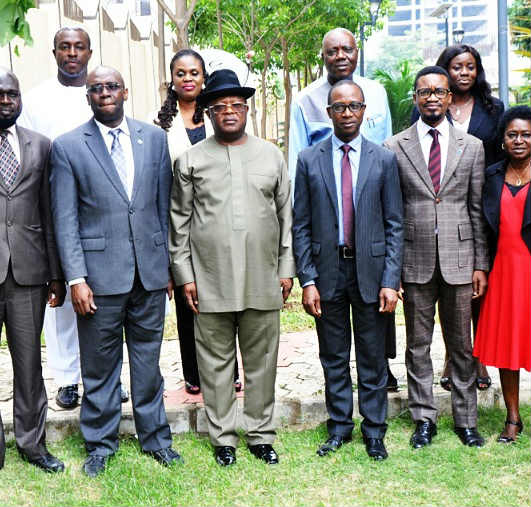 The next day, the train moved back to the Bank of Industry (BoI) building where it was received at the conference room by Olagunju and some management members of the industry bank.
"I am happy to meet a young man like you at the helm here. It shows that the future belongs to the youth," the governor told Olagunju.
With his left hand placed on that of the BoI boss, Governor David Umahi said, "I want you to give me definite answers. We are in need. Just yesterday (June 8), we were at UNIDO to discuss the issue of our 5MW biomass plant. How can you help us to get it back on stream?
"We don't have the money but we want to get it working. We also have our agricultural projects, especially rice production but fund is our challenge. We need you to assist us.
"I'm here for a numbers of reasons and I want definite answers. Our programmes are time- backed . We have this 5 MW Rice husk power plant. GEFF which is involved in that project has put in $1 million and I think it is housed by you for distribution.
"I noticed that the contract was awarded for $9.8 million and I felt that the cost was high because a gas plant costs $1 milion per mega watt. So, a 5MW biomass plant should not be more than $7.5 million in the new arrangement.
"I was told off record that BoI also expressed the same opinion that the cost was high. So what we did was to ask UNIDO which is anchoring the project to come and let us look at it again. Geff has threatened to withdraw its fund if the project is not engaged by October this year.
"So we are at the verge of losing the $1 million. But the beauty of it is that BoI has equity in the project.
"I think Ebonyi State government has 60% equity; BoI about 20 per cent or 30 and Abakaliki Rice processing millers association, 10%.
"So I want to find out a number of things. One is if the ability of the BoI to perform is it still there? If it is still willing to pay the 30% equity in this project.
"And two is: I want to know in definite term what we can do about the project because the huge heap of rice husk over the past 30 years has become an environmental problem."
Umahi also talked about his administration's desire to establish new rice mills and get all its existing ones working at optimum capacity.
He also mentioned before the BoI team his eagerness to set up an industrial park in the state and start a solar power programme.
Olagunju, who took time to explain the roles of the bank to his Excellency and his team, said ,"We have a lot of development partners across the spectrum and there are business development service providers that have been appointed. Some have national mandate and some have state mandate. We will make the list available to your officials so that they can decide which one they want to work with.
"We are all here to help all our partners and Ebonyi State is one of them.
"Now starting with the biomass power project, you know this is one of our developing partners initiatives and we got involved in that project. But at some point there were issues regarding the cost and location that stalled its implementation . For us to be able to go ahead there would be need to visit those two issues, we would go back to UNIDO and discuss with UNIDO and that would take space evaluation.
"UNIDO would also need to come up with a team and undertake the evaluation because they have the expertise. Our own staff would work with them on that.
"Regarding money, we are planning to use the CBN power evaluation fund through UBA and I believe UBA is a partner of the state government in this regards.
"The rice mills you talked about is line with our own development strategies. We will add your state in our plan but it would be good for us to see the concept note in terms of implementation.
"And then the industrial part you talked about is also very much in sync with our strategies. Since we don't finance public sector project, we can come in terms of infrastructure if you have private sector involvement especially in the case of the industrial park."
At this point, Olagunju put a call to his colleague in The Infrastructure Bank to assist the state.
He reassured the governor that the state government's"power initiative was very much in tandem with our activities."
His words"We cannot continue to wait until we have power in all the 774 local government from the national grid but we can deploy solar solution across the country to supply light to low power consumption equipment to process agro product and to add value to some of our solid minerals.
"The people we are working with are reputable and internationally. They are in power project through ADB. We would connect you with them."
Before departing, the governor thanked the BoI MD and quickly reminded him of the strategic meeting in Ebonyi on the biomass plant with his team (BoI) and that of UNIDO.
Here are the links to all parts of the news:
– Governor Umahi's 3-Day Abuja Economic Shuttle By Emma Anya – Part 1
– Governor Umahi's 3-Day Abuja Economic Shuttle By Emma Anya – Part 2
– Governor Umahi's 3-Day Abuja Economic Shuttle By Emma Anya – Part 3
– Governor Umahi's 3-Day Abuja Economic Shuttle By Emma Anya – Part 4
– Governor Umahi's 3-Day Abuja Economic Shuttle By Emma Anya – Part 5
– Governor Umahi's 3-Day Abuja Economic Shuttle By Emma Anya – Part 6
Support InfoStride News' Credible Journalism: Only credible journalism can guarantee a fair, accountable and transparent society, including democracy and government. It involves a lot of efforts and money. We need your support. Click here to Donate