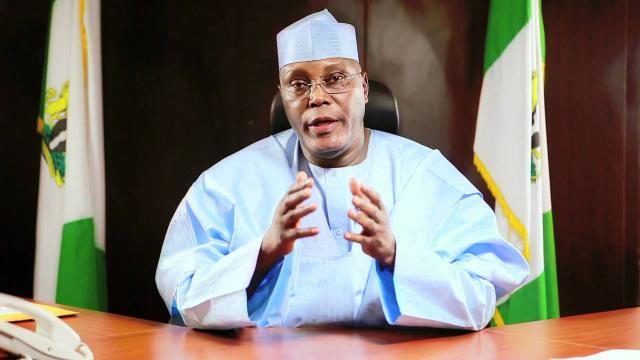 Alhaji Atiku Abubakar has said job creation for Nigeria's youth would aid the curbing of the security challenges being experienced in several parts of the Nigeria.
Atiku blasted the President Muhammadu Buhari-led government for what he called its inability to fulfill its promise on the three important aspects of an economy, security and anti-corruption. He then vowed to transform the economy via creation of jobs, which he noted, would eradicate the killings now experienced in the land.
He said, "When it comes to the issue of economy, we have lost more jobs, over 10 million jobs, to the extent that Nigeria has been declared the headquarters of poverty in the world. This is a record. Have they fulfilled that promise? Now I want to promise you that if you vote PDP, we will restore the jobs that had been lost. You either get a job or get a business to do.
"So, this is a promise and a commitment I am making on behalf of PDP. I want to commit to you that if you vote for PDP, the insecurity which they have not been able to control, we shall control it. They have been unable to control insecurity because they have been unable to provide jobs and businesses for the people. So by the time we provide jobs and businesses for our young men and women, you will hear of less crime and insecurity," he said.
"Let me remind those of you who perhaps were born in 1999 when PDP started governing Niger State. The roads infrastructures that you have in Niger State were constructed by the PDP government. The schools that you have attended were built by PDP government. The hospitals that you are attending were built by PDP government.
"And then in 2015, they came to tell us that PDP did not do anything. We should change. And we changed. And they promised to fight corruption, to improve our economy and also to secure our country. Have they achieved any of these three? When they came in, there was insecurity only in North East. Today, there is insecurity in North West and North Central. And we have lost more lives than at any other time in the history of this country in peaceful times. They have failed as far as security is concerned.
Speaking earlier, Senate President, Bukola Saraki begged the citizens of the country not to allow themselves to be deceived one more time, adding that all promises made by the APC in the last elections have not been fulfilled. "Election is about referendum. A government that has been with us for three and a half years and promised us three things, we are going to decide as Nigerians if they have performed. They can continue, if they have performed and if not, they must pack and go home.
"They said they will provide three million jobs for the youths. Today more than 10 million youths have lost their jobs," he said.