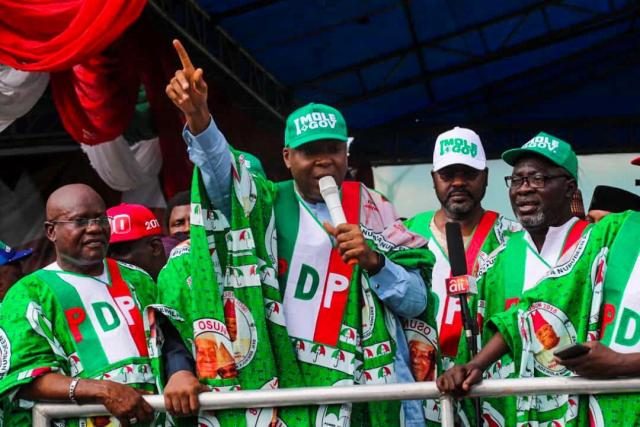 Bukola Saraki has faulted the declaration by the Independent National Electoral Commission (INEC) that the election results were inconclusive.
He said "In my lay man's opinion, the INEC was wrong in declaring the election as inconclusive because the votes in certain polling units were cancelled. The decision of INEC to cancel the election in those areas after voting had taken place means INEC had already excluded the votes in these areas from the election process and therefore those units should have no place in the overall results. My opinion would have been different if the election in the affected units did not take place at all, may be as a result of malfunctioning of the card reader machine or unavailability of the electoral materials. Since the voting took place and was cancelled, only the courts could reverse the initial decision by INEC to cancel the votes in these areas.
"That is why I call on our party and its candidate to seek further legal interpretation on this decision by the electoral body. One cannot but wonder whether if the places were reversed and the candidate of the ruling All Progressives Congress (APC) is the one leading in the election, the INEC will take the same decision it has taken now."
"At this point, it is necessary to also call on INEC to display courage, boldness, independence, neutrality and patriotism so as to send signals to the world at large that Nigerian electoral system has come of age and that our democracy has matured. The electoral body needs to re-assure all and sundry that the 2019 election and other elections will be free of manipulations and undue interference.
"The INEC should note that the Osun gubernatorial election is not only about that South-western state. It is about our country and the entire world is watching. Our national interest is at stake. The integrity of our electoral system is at stake. The reputation of the electoral body is at stake. The future of our democracy is on the line. The way INEC conclusively handles the Osun election will determine global expectations from our political process. It should therefore ensure that the wish of the Osun State electorate eventually prevail.
"I praise the dedication and hard work of PDP supporters and the candidate of the party, Senator Ademola Adeleke. They have remained steadfast, resilient, focused and determined."