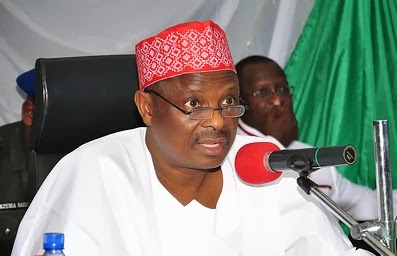 Governor Rabiu Musa Kwankwaso of Kano State has urged Nigerians to reject alleged plot by the Presidency to force a draft Constitution on the nation, in order to actualize a lifetime tenure ambition for President Goodluck Jonathan.
He described the draft Constitution issue as tragic, dangerous and one, whose consequences would be disastrous for the African continent.
The governor, who made this known while speaking to select group of reporters in his office late Thursday, sought a regime of collective opposition to the draft Constitution, recalling that he had raised the alarm to the effect of this plot long before it was exposed by members of the just concluded National Conference in Abuja.
He said a glimpse of the draft showed that it contained issues of six year single tenure, 50 percent derivation, scrapping of 774 local government areas, and the creation of additional 18 states and limiting of the ministers to eighteen.
He alleged that the authors of the draft and its principal intended to resort to a Kangaroo referendum, cook the figures in their favour and then claim that draft has been endorsed by Nigerians.
Kwankwaso warned: "I appreciate the elasticity of Nigerians and I believe that elasticity has limits. If they keep on pulling and pulling, there would come a time when it would not take any more.
"That is why I think the good people of this country should speak because some of the consequences would affect everybody".
He insisted: "All people who loves this country and really understand the situation we are today and the likely consequences of another brand new constitution, which the Villa wants to use to start another eight years, would know that certainly it is a very dangerous development.
"I believe the delegates, whether from the North or the East, whether Christians or Muslims, whether Igbo, Yoruba, Hausa or any other tribe, should reject the Constitution because that would not help this country, it would not help the authors and it would not help anybody in this country.
"It is up to us to appeal to our delegates, Nigerians, to shy away from the so- called dollars that people are distributing in Abuja to come and save this country. Any constitution other than the 1999 Constitution which we know, I don't think would help any other person other than those who think that it would help them. Certainly, it is would not".
Kwankwaso used the opportunity to thank all those who have since risen against the draft Constitution as well as the National Assembly for earlier rejecting the six years single tenure arrangement that was proposed to them by the Presidency.
On the security challenges, the governor lamented that while the people in Abuja are very high, up and isolated, Nigerians are ravaged by illiteracy, poverty, disease and insecurity.
"As we are talking here, the people of Borno, especially Borno South, are now on hills, on rocks and living inside forests. Many of them are in Cameroun; many of them are in Chad, and also thousands are in Niger Republic. Nobody is talking about them. What we are talking about here is how to extend the duration of Mr. President's term to a lifetime presidency. I am sure that some of you are aware that parts of this country now have flags other than the green-white-green. This is terribly unfortunate", he said.
Kwankwaso, who remarked that he is well read in geography and is well travelled, declared that from his vast experience about nations, no nation in the world can accept the form of bad leadership that Nigerians had withstood. He said: "What is happening today in Nigeria, if 10 percent of it could happen anywhere, I don't think that leadership can stand".
On the heightened speculation that the former Economic and Financial Crimes Commission's chairman, Malam Nuhu Ribadu, is planning to dump the All Progressive Congress, Kwankwaso cautioned that he would be making the biggest political mistake of his life if he decides to defect to the Peoples Democratic Party.
His words: "I have heard the rumor and I don't want to believe that it is correct or that it is true. But I want to say that if that (rumor) becomes a reality, then I think that he would be a big disappointment to Nigerians.
"People, ordinarily, would think that Nuhu Ribadu is a principled person, somebody with good ideology, somebody who is progressive, somebody who is always working towards the unity of this country.
"I remember during his days as the chairman of the EFCC, he has done so much to deal with corruption. And as we are moving deep into democracy and water is taking its level, people are moving in and out of parties, meaning that people with similar ideologies are coming together, unlike 1998, 1999 when we were forming parties to remove the military and everybody from all the ideological tendencies had to come together.
"Now for him, who in my opinion, is at the right place, together with progressives, with all the bonds, the love and so on in between us – if he should leave because he is looking for position, because he is looking for a ticket to contest election, I don't think that is good for him. And it is not even good for the country. I believe that at the end of the day, if that happens, he would be the biggest loser", he stated.
"He would lose because he would be joining a group, most of whose members were jailed by him. I don't think they would ever want to see him there. But in politics, there is this accommodation by people. They would bring you close, raise you up and dump you and at the end of the day, they would laugh at you and say look at him now!
"I believe that if Ribadu should join PDP, whether he wins elections or not, he would be the biggest loser. People would come to believe that all what we thought about him was completely wrong.
"I believe that the biggest punishment to a politicians is for him to be in the wrong place because if he goes there, at the time they are talking of how to share 20 billion US dollars, I don't think he would be happy with that sort of thing if he is the Ribadu I used know. Unless, he is just deceiving all of us".
The governor also expressed delight with the outcome of last week's gubernatorial elections in Osun State, saying his party, APC, emerged victorious having learnt a few lessons from their purported loss in Ekiti State. He equally condemned the Adamawa impeachment episode even as he exhorted the resilience of the people of Nasarawa State for resisting the plot by a few persons to unseat their governor.
Kwankwso added: "If we have to amend the constitution of Nigeria, I think we have check this area of state assemblies impeaching the governor for themselves. The Speaker, in his own court, sacking the governor who was elected by over 20 Local Government to give (power) to himself who was elected by just one Local Government".
Support InfoStride News' Credible Journalism: Only credible journalism can guarantee a fair, accountable and transparent society, including democracy and government. It involves a lot of efforts and money. We need your support. Click here to Donate