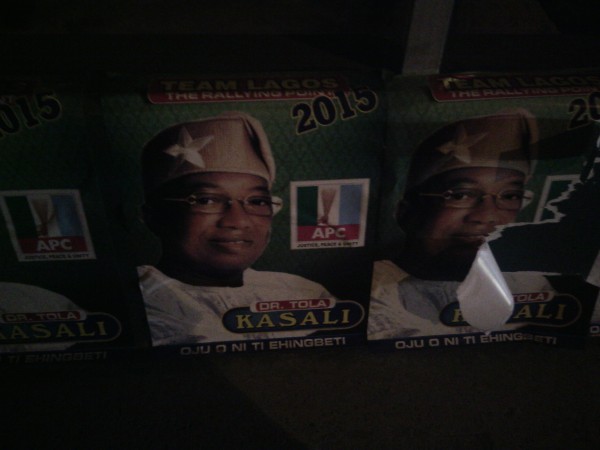 campaign posters on third mainland bridge. picture taken on Nov 30, 2014
After several months of pasting posters in several strategic places in Lagos State by the All Progressives Congress (APC) and the People's Democratic Party (PDP), the Lagos State Government has started removing posters pasted in unauthorised public places across the state. It therefore warned the state Commissioner of Police, Mr. Kayode Aderanti, against alleged plans to arrest its officials, while discharging this duty.
The state government also declared zero tolerance for the indiscriminate pasting of posters on highways, high streets and major roads, which it said would be removed by the enforcement officials of the state Signage and Advertisement Agency (LASAA).
According to the agency's Managing Director, George Noah, who spoke at a news conference in Alausa, Ikeja, the state police commissioner should desist from stopping LASAA officials to carry out their statutory duties or face the wrath of the law.
Reports say that the police commissioner had on Monday, disclosed plan to arrest LASAA workers who attempt to remove billboards or posters of candidates of the various political parties even if such was illegally deployed.
Noah, however, said that the guidelines on the use of election campaign materials for the 2015 general election were issued in line with the agency's responsibilities as provided under its enabling law, which regulates and controls outdoor signage, advertisements and hoardings in the state.
The agency, Noah said, "has not been selective in the way it discharges its statutory responsibilities. Its staff members always remove posters from undesignated spaces irrespective of political and party affiliations.
"It will not stop carrying out its statutory responsibility of removing election campaign materials indiscriminately placed at unauthorised places in the state. It will be unlawful for the police to arrest any LASSA staff for carrying out their lawful duty," he said.
He noted that guidelines for deploying electoral materials had been published by the agency in four national dailies in addition to a town hall meeting it convened with all the political parties where the guidelines were presented to them.
He said that the removal of posters that deface the environment "is our statutory obligation. The agency is therefore baffled that the Nigerian police responsible for enforcing the laws of this nation is by the statement encouraging and expressly supporting the flagrant disregard and contravention of environmental guidelines issued to all political parties."
Noah accused the police of an attempt to intimidate staff of the agency, saying election materials not properly deployed or that which violates the agency's guidelines will be removed regardless of the threat.