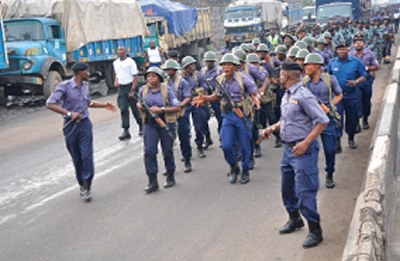 The Central Naval Command of the Nigerian Navy has denied the alleged killing of members of the Movement for the Actualisation of the Sovereign State of Biafra by its operatives in Anambra State.The CNC, which has its headquarters in Yenagoa, Bayelsa State, is in charge of Anambra, Kogi, Edo, Delta and Bayelsa states.
The Flag Officer Commanding, Rear Admiral Stanley Ogoigbe, who spoke to reporters at the command's headquarters on Saturday, said it became necessary for him to personally clear the air on the rumoured killing of the MASSOB members, which he described as untrue.
There had been conflicting reports that a clash between members of a pro-Biafra group, Indigenous Peoples of Biafra and naval officers in Onitsha, Anambra State, led to the alleged killing of some members of the group.
While some of the reports put the death toll at 10 persons, other said between three and five members of the group were shot dead by the naval ratings during the clash.
However, the FOC stated that his men only shot into the air to scare a large number of MASSOB members, who were on a protest towards the Onitsha head bridge, as the protesting youths had already overrun the policemen on duty.
He stressed that the Naval personnel "did not injure, let alone kill a soul".
Ogoigbe added, "To our surprise, MASSOB started claiming that the Navy has killed two of their men. I don't know what they wish to achieve with this propaganda, fabricating stories against the Navy.
"We just want all well-meaning Nigerians to know that no MASSOB member was killed in that area of Anambra State where the Navy was keeping the peace and carrying out their legitimate duties.
"It was not only Navy that was there, the police and other security agencies were also there, and they all confirmed that nobody was killed. I don't know where MASSOB manufactured their story".
"That is why I am taking the responsibility to clear the air to avoid an unwarranted tension", the FOC added.