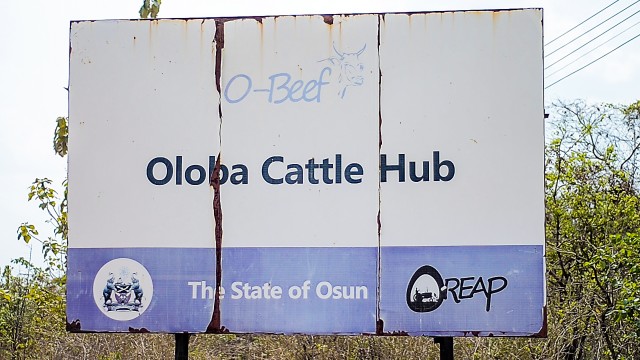 The state of Osun is set to dominate the supply of beef to larger markets in Oyo, Lagos and other parts of the south west of Nigeria.
This was revealed during a tour of Oloba Farm Settlement, Iwo where 1,500 hectares of land has been acquired, and a 78 hectares cattle ranch established for the fattening of Cattles and Goats.
The ranch has the capacity to Produce 10,000 Cattles amongst other animals being raised for meat production.
Recall the state government of Osun sent 40 youths to Germany to acquire modern Agricultural techniques in 2015. Another set of 2,806 Osun Youth Empowerment Scheme, OYES cadet were also trained in modern agriculture practices at the OREAP Youth Academy, Odua farmers Academy, and Leventis foundation.
Olumide Ojo, one of the German Trainees now resident at the Oloba Cattle Ranch, said he and other trainees are in high spirit as they have begun the first batch of 45days goat-fattening beef production. Thousands of Cattles are also being raised in the ranch. Other trainees who arrived from German in 2016 are also breeding pigs using modern techniques at Leventis foundation fattening centre, Ilesa.

In addition to the above, the Osun Government has secured a 2,000 Hectares of land for another cattle ranch in Ede and Ejigbo local government areas. A N40M loan support was also granted to registered pig farmers' cooperative society in the state to boost their meat production.
The German Trained farmers stated that in a week or two, the first batch of fattened goats will be ready for sale in various markets across the south west.