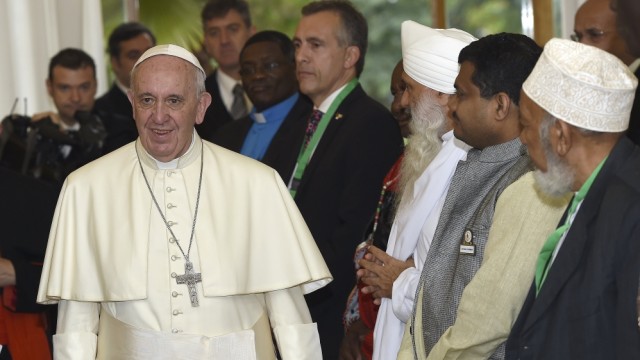 Pope Francis has urged global action against the illegal trafficking of blood diamonds, ivory and other natural resources, in the second day of his landmark three-nation Africa trip.
In a speech in the Kenyan capital Nairobi on Thursday, the pope said the illegal trade in precious stones and ivory fulled political instability and organised crime.
"We cannot be silent about forms of illegal trafficking which arise in situations of poverty," he said, just two weeks before Nairobi hosts a key ministerial meeting of the World Trade Organisation.
Figures published earlier this year by Amnesty International showed conflict diamonds, which account for four percent of total global production, have helped finance civil wars and prop up military regimes.
The pontiff's remarks on wildlife trafficking were likely to hit home in Kenya, a country trying to stamp out rampant poaching to protect its remaining elephant population.
---
Related: Jubilant Kenyans extend warm welcome to Pope Francis
---
Hundreds of elephants are lost to poaching every year, with conservationists warning the African elephant could be extinct in the wild within a generation.
The Argentine pope also warned against "the globalisation of indifference" and the danger of becoming resigned to "new forms of slavery, human trafficking, forced labour, prostitution and trafficking in organs".
---
In Pictures: Pope urges 'essential' interfaith dialogue in Africa
---
Tens of thousands of Kenyans travelled to the centre of Nairobi on Thursday for a chance to attend a Mass with Pope Francis on his first official visit to the continent.
Rain poured down on the crowds, some of whom had spent the night outside the custom-built chapel in central Nairobi.
He next visits Uganda and the Central African Republic to address a number of pressing concerns, including climate change, conflict resolution, corruption and interfaith tolerance.