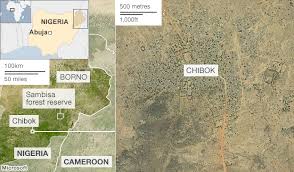 Some distraught parents of the abducted Chibok schoolgirls have refused to confirm nor deny their use of diabolical means to secure their daughters' freedom, who have been in Boko Haram captivity for over two months now.
On Wednesday, the media was agog with reports that some insurgents were fleeing the dreaded Sambisa forest as a result of some mysterious snakes that had been haunting them there. The forest provided a safe haven for the terrorists until recently, when sect members began dying from poisonous bites from the 'so-called' spiritual snakes.
Recall that two members of the Boko Haram sect were on Wednesday arrested at a spot near the University of Maiduguri by members of the vigilante group, Civilian JTF, to whom they confessed that they were being forced to flee Sambisa forest because of some mysterious snake bites.
One of the arrested insurgents, who identified himself as Kolo Mustapha, revealed that they were being attacked by strange snakes.
"Most of us are fleeing because there are too many snakes now in the forest and once they bite, they disappear and the victims do not survive 24 hours. We were told that the people of Chibok local government are the ones turning into snakes and attacking us in the forest", he said.
The suspect was also said to have revealed that even some of their leaders had to flee to Cameroon, while those that had homes in Maiduguri, returned to the city.
The two arrested suspects, who pleaded for their lives to be spared, also confessed to killing innocent people during many of their raids, but denied taking part in the abduction of the Chibok schoolgirls.
The other suspect, Umar Abor, was quoted to have confessed that "we have fought together as Boko Haram since 2010; we have fought in Marte, Bama, Buni Yadima and Gwoza. We were not in Chibok, we have not seen the girls but we heard about it. Our leaders have been talking about it and we have been following all news from the radio.
"We decided to flee when almost all our comrades were leaving Sambisa because of constant attacks by snakes, which we were told was as a result of the Chibok girls abducted. They (our leaders) told us that it was the people of Chibok that were haunting us through diabolical means in the form of snakes. We were in the forest in 2010 and 2011 and we left and came back last year but we have never experienced snakes as we do this year and that is the reason why they believe the Chibok people are using "juju" to pursue us because of their children said to have been taken by our leader", Abor said.
Ali Musa, leader of the Civilian JTF at Bama road, who arrested the sect members, told journalists that many of the insurgents have been fleeing Sambisa forest in the past two weeks and most of them are being arrested and handed over to the military authorities except in a situation where the suspects attempt to resist arrest that, they are left with no option but to "waste them".