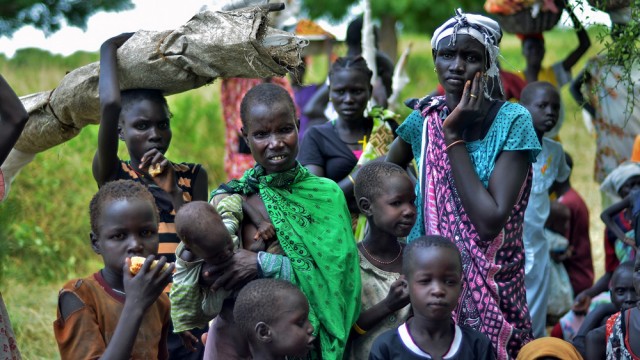 Koch, South Sudan – Cradles and baskets balanced on their heads, thousands of women and children streamed in from the bush to two outposts in the swamps of Koch county in Unity state, the heart of South Sudan's civil war.
"I came here because at home we have nothing – no food," said Nyapar Kueth, lining up in Koch town with hundreds of colourfully robed women to receive sacks of grain from the World Food Programme (WFP). "We have been eating the fruits from the trees."
In August, South Sudan's President Salva Kiir, an ethnic Dinka, and his rival, former vice president Riek Machar, a Nuer, signed a peace agreement to end what is now 21 months of fighting. Tens of thousands have been killed in South Sudan's civil war, which largely pits Dinka against Nuer, and more than two million have been displaced, according to the UN.
Now that there is a shaky peace deal, aid groups are trying to re-establish access to communities cut off by violence, who some fear face famine.
A convoy of aid helicopters recently brought food, medicine, and other goods to Koch county for the first time since May, when a devastating government offensive swept through the area.
Soldiers burned homes, raping and killing civilians during that campaign, according to United Nations investigators and Human Rights Watch. Thousands fled to the forests, leaving the fields, on which they depend for survival, unplanted.
Infighting
The convoy visited Koch town, held by the government, and Bauw village in rebel-controlled territory. Though South Sudan's war is largely between Dinka and Nuer soldiers, in Unity, the fighting mostly involves different clans from within the broader Nuer community against one another, particularly in recent months.
In Koch town, smiling women balanced bags of sorghum on their heads or dragged the sacks through the muddy ground behind them.
In Bauw, tired villagers quietly gathered under trees to be screened for diseases and receive plastic sheets for shelter from the UN. Many had walked for hours through the tall grass swamps.
Altogether, more than 20,000 civilians – mostly women and children – received a combined 217 metric tonnes of food during the aid delivery, according to WFP, which led the relief effort with UNICEF and other agencies.
Medical teams found malaria, acute respiratory illnesses, and diarrhoea among locals, the WFP said. More than 170 people were treated on just the first day of the operation, according to medics on the ground.
---
RELATED: Reliving the rape camps of South Sudan's civil war
---
In Bauw, Nyangang Wanjang said hunger and shelter were her biggest concerns. She said an elderly lady in her village recently died of hunger as they had scavenged the wilderness over the past few months in search of food.
"People were going to collect water lilies [to eat], looking for fish," she told Al Jazeera.
Still, the level of food security among civilians was better than expected. Aid workers found only one percent of children under five screened in the two settlements suffered severe acute malnutrition. In Bauw, a few youngsters chewed on maize and others carried pumpkins grown in small gardens, a sign that cultivation continued despite the war.
"What we saw was a situation that was very bad, but not quite as bad in terms of nutritional status than had been reported, so that is actually good news," said Jonathan Veitch, UNICEF representative for South Sudan.
For Nyakud Gatang, who was nursing an infant in Bauw as a WFP chopper kicked up dust, the arrival of aid is a harbinger of better times.
"When you see the flights coming in, it means there is peace," she said.
'Sound of guns'
Yet, continued fighting belies such optimism. While South Sudan's leaders have claimed they are committed to the peace deal, commanders in Koch blamed each other for clashes and cattle raids that have taken place in the county since it was signed.
"The government doesn't want peace, they signed the paper, but they don't follow it," said George Gatloy, an opposition spokesman in Bauw.
But William Malual, a deputy commissioner for the government in Koch town, blamed the rebels for instigating clashes. Neither side had received a copy of the peace agreement before the aid convoy arrived.
That means the food is not enough to help many civilians rest easy.
"I heard that the peace [treaty] was signed, but we are still hearing the sound of guns," said one woman in Koch town who requested anonymity because she was afraid of nearby troops.
---
RELATED: Is peace really possible in South Sudan?
---
US Ambassador Mary Catherine Phee joined the relief mission. She met with commanders on both sides to impress upon them the importance of implementing the peace agreement.
"If there is peace and it lasts, then more help can come to you and your people," Phee told rebel leaders in Bauw, flanked by aid officials.
Kueth came to retrieve food for her 21-year-old son, who was wounded in battle with a bullet to his thigh. Yet, coming to Koch town, where a pick-up truck full of armed child soldiers patrolled the airstrip during distribution, meant risking an encounter with the same fighters she had just escaped.
"[The soldiers] come every day [from town], and when they meet with the people who are in the forest they will start fighting," she said.
Joyce Luma, WFP's South Sudan director, said there were concerns that civilians might be attacked after the aid workers leave. In July, government soldiers in Unity were accused of attacking and stealing relief supplies from a village after an aid delivery.
Luma said they gave aid recipients half-full sacks of grain so that they would not have to abandon their food if they had to flee from an attack again.
[Al Jazeera]
The post Displaced and hungry after South Sudan's peace deal appeared first on African Media Agency.
Support InfoStride News' Credible Journalism: Only credible journalism can guarantee a fair, accountable and transparent society, including democracy and government. It involves a lot of efforts and money. We need your support. Click here to Donate