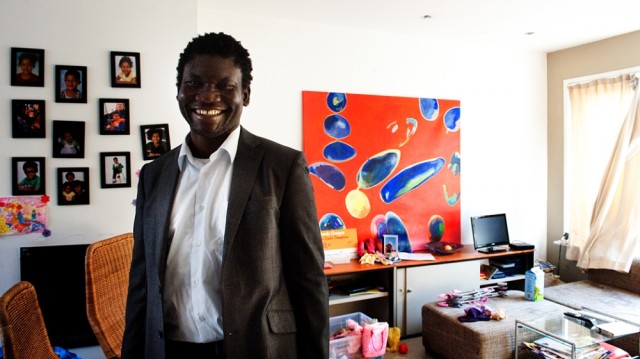 Utrecht, The Netherlands – When actor Bright O Richards came to Holland as a refugee of the Liberian civil war, he bought himself a pair of brightly coloured wooden shoes. He wore them everywhere he went.
As an African in clogs, he attracted a lot of attention. Everywhere he went, people would strike up a conversation with him.
"In a way, with those clogs, I secured myself a public again," he says. "In Liberia, I was a celebrity. But as a refugee, I totally lost my identity. I was a nobody. But thanks to those clogs people couldn't help noticing me."
Nowadays, 45-year-old Richards runs an organisation called New Dutch Connections, which works to empower young refugees. He challenges them to dream of the future. And he teaches them how to build up a network of people that can help them get ahead in life.
Earlier this year, the Dutch king and queen awarded him a special prize for his successful social initiative.
'It only takes one person to change, or even save, your life'
But Richards knows all about the loneliness and isolation that refugees face in the West. He was a popular actor with his own television show when he fled the Liberian civil war, narrowly escaping execution by Charles Taylor's rebels.
"When I came to Holland in 1993, I thought I would never act again. I thought I would have to find a job in a factory, because that's what most people in my situation were doing," he explains.
While living in a refugee centre, he bought a camera and started to photograph fellow refugees. He portrayed them the way they wanted to been seen: smartly dressed, against a beautiful backdrop.
"I made the photos they would send home to show their family that things were just fine."
---
: Europe anti-refugee rhetoric swells after Paris attacks
---
With the money he made from taking the photographs, he organised a weekly entertainment event at the refugee centre, where anyone who wanted to sing or dance was welcome to perform.
A woman who worked there, saw what he was doing and introduced him to the management of a multicultural festival. At first, he was taken on as a doorman. A year later, he was announcing the artists – all while clad in traditional African dress with his clogs on his feet.
"All of a sudden I stood before an audience again. That's when I started to believe I could find work as an actor in Holland after all. For the first time since I fled Liberia, people saw me for who I really was. That was so important to me. In my present work with refugees this has become my main focus: To help them to be seen for what they really are."
The woman who connected him to the festival instilled in Richards a deep faith in the role one human being can play in the life of another.
"I have experienced this once before, in Liberia," he says. "When I was on the verge of being randomly executed by a rebel, his Kalashnikov already pointed at me, there was a man who recognised me as a television star and he begged him to let me go."
"This man took a great risk in pleading for me. I don't know who he was, but I owe him my life. So I know from experience that it only takes one person to totally change, even save, your life."
Dancing the grief
After three years in the Netherlands, Richards auditioned for the Drama Academy in the city of Arnhem. He arrived in his clogs. His exuberant African acting style contrasted starkly with the Western standards of the school, where method acting was taught.
During the audition he was asked to connect with a painful memory and to improvise on it.
"Suddenly the memory of my little sister came up. I had pushed it away for many years, because I was too busy surviving to allow myself to feel the pain. She was 15 at the time. We were starving during the civil war, and she had been eating grass.
---
: The day they came to kill me
---
She didn't know the grass was poisoned. She suffered from terrible stomach pains and she cried when I left her at the house, to go looking for food. When I came back two days later, she was dead and buried."
Richards couldn't find the words to describe how he felt about his sister's death. So he danced his grief.
He was admitted to the academy.
"Dancing has always remained important to me. Even now, when I work with young refugees, I make them dance before we start discussing how they can develop their talents. Because when you dance, you throw out all the excess baggage. The body makes room for the spirit."
The darkness inside
After graduating from drama school, Richards experienced a deep depression. All the feelings he had carefully tucked away for years suddenly came out into the open.
"I realised there was a lot of darkness inside of me and I had to come to terms with that. During a civil war, you turn into some kind of animal. Civilisation slowly ebbs away. One day the water is cut off, the next day electricity. Finding something to eat becomes the main struggle."
"I got used to the presence of guns, to people being assaulted, even killed before my eyes. One day I went outside to look for something to eat and all around me were headless corpses," he remembers.
"At one point I just didn't have any feelings any more. And I was okay with that. When you experience a civil war, you really don't want to be bothered by feelings."
While struggling with his depression, Richards worked both as an actor and a corporate trainer. He was hired as a cross-cultural trainer by companies with branches in Africa, and also worked with companies that were dismissing employees during reorganisation processes.
"I saw a great similarity between refugees and people that lose their jobs. Both need to find a new identity. Both need to make a radical new start."
Building networks, making connections
Then one day he was asked to train young refugees.
"I realised that what they lacked was a proper network," he says. "That made me think about the importance of being connected, of knowing just that one person that can make a difference in your life."
This is the gist of what he is doing with his organisation, New Dutch Connections, which he founded in 2004 together with his Dutch wife, Margriet Stuurman. It is financed mainly through private social funds and is now run by 15 people.
"We go to refugee centres and talk with the young people who live there. We ask them about their dreams. We say: Who are you really? What would you like to do with your life? What are your talents? What do you need to develop them?"
Often his questions leave them confused, he says. Because they come from countries where things like that are never asked, where people don't have choices.
"Sometimes they have been refugees for such a long time, that they have forgotten what it is to dream about the future."
Once they know what they would like to do with their life, Richards takes his pupils to the companies or institutions of their interest to have a good look at what goes on there. And he connects them with people who can help.
"For example, we've been able to connect a number of young Syrian refugees with elderly university professors who helped them prepare for their admission to university."
Part of the programme is making a film in which the refugees act out where they want to be in 10 years' time.
"Say he wants to become a journalist. Then we will film him while he is interviewing people in the street. Does he want to be a train driver? We'll take him to the Dutch railway company, hook him up with a train driver and film him on the train," he explains.
"But we don't only dream, we also work hard on the skills these people need to attain their goals in a society that is completely alien to them. We want them to really find a way to make themselves useful. I think this is extra important right now, as great numbers of refugees are making their way to Europe."
Richards also helps refugees who don't have residence permits and will have to return to their homeland, sooner or later.
"We want our clients to make good use of their time in Holland, so that in the future they can either contribute to Dutch society, or to their own society. If they have to return, we want them to go back with experience, knowledge and connections in the corporate world. We don't want them to waste their precious time."
---
RELATED: Refugee crisis highlighted in Africa film festival
---
He gives the example of a young Ghanaian with a degree in business, who couldn't get a residence permit in Holland. Richards was able to connect him to Dutch entrepreneurs who were doing projects for the World Bank in Africa. When he returned to Ghana, he found a job as a manager on one of these projects, thanks to this connection.
Richards is ambitious. He is now making plans to start up what he calls "Academies of the Future" in eight different Dutch cities, where young refugees and migrants can work on their future.
"I identify with these people. I know where they are coming from, because I have been there. I love seeing them regain their dignity," he says.
"As a refugee, I have seen so many dead people. That's why it became my mission to help people to live life to the full."
By Renata van der Zee via [Al Jazeera]
Support InfoStride News' Credible Journalism: Only credible journalism can guarantee a fair, accountable and transparent society, including democracy and government. It involves a lot of efforts and money. We need your support. Click here to Donate