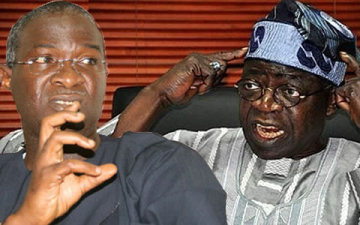 Nigeria is too big and multi-ethnical a country for its ownership to be solely controlled or proclaimed by a man. This is a call from all Nigerians who believe that the best way to make Nigeria great is to have a strand mindsets by setting our motives straight to making things work for better and making a way for a new Nigeria for which we all have been praying, longing and yawning since some decades ago. A man who was generally described as hero of people's democracy for his dogged opposition over the times and coalition with others which was the bedrock of the change we have today, Bola Tinubu, in his greed to be in charge of everything has been distorting and heating the polity since after March 28 general election, when the battle for who rules the National Assembly kicked off, precisely speaking, his strong antagonism to the Senate Presidential bid of Senator Bukola Saraki. However, the political fallout of 9th of June against his candidate, Sen. Ahmed Lawan threw up many politicking and media sponsorship against the person of Saraki who defeated his anointed candidate. The Xerox Tinubu has also been heard of opposing the governor per excellence, Babatunde Fashola from being appointed by President Buhari into Federal Cabinet despite Buhari's interest in Fashola's reformation and transformation ability. The question here is, could all these be his deceptive tactics to gain upper hand in Nigerian political history? That's very impotent because Nigeria is wider than a sole political thin god and Buhari's body language doesn't in any way support thin-god ship.
In advanced economies, good governance is seen as obligatory responsibility of governments to the governed but the contrary is at its play out in Nigeria here. In reality the greatest reward of any country with revolutionary polls as strongly demonstrated by Nigeria in the last elections, is good governance. Barr. Babatunde Fashola, a former governor of Lagos is generally undisputable on competence and brilliance which resulted in many monumental achievements that were wittingly left unconcerned by his predecessor and political godfather, Bola Tinubu. Of course Fashola's unmatchable track records in Lagos alone, is worth a depiction of who truly have people at heart between Fashola and Tinubu.
Fashola's case has however vindicated Sen. Saraki and active listening Nigerians who tried to interfere in the National Assembly crisis in his speech titled "When you wrestle with a pig, the pig get happy and you get dirty." That speech is in its entirety, a personification of the current political imbroglio. Nigerians are highly interested in knowing the 'Pig' and 'wrestler', so as to advice the wrestler who fights every competent man on his path, not to get stained with the pig's natural dirtiness which doesn't translate to the pig's wickedness.
Mr. Fashola is an irrefutable transformational man whose administration in Lagos marked an historical turning point in the life of lagos state as the largest city in Africa. His largest achievement in administration took place a year ago, and was done without an earthmover in sight. That was when Nigeria was officially declared Ebola-free, which first spread to the country over three months ago, when Patrick Sawyer, the infected US-Liberian citizen and the ECOWAS official, imported the virus through Lagos airport.
For some of us who knew what Lagos looked like more than a decade ago up till Tinubu's administration, we definitely applaud Fashola's beautification and transformation initiatives. Talking about public security and safety, rural transformation and infrastructural renewal of Lagos; Babatunde fashola towards achieving security as one of the most important pre-conditions for human existence, the Fashola government, turned most hide-outs and joints that previously served as bases for impostors and armed robbers into beautiful environment. I watched Channels TV yesterday where Oshodi Lagos and its long curtailed social vices by Fashola were reported to be resurrected. Then I thought of why Fashola wanted to name his successor by himself which was one and last of the points of political collisions between the gentle technocrat, Fashola and his thingod, Jagaban. On assumption of his administration, Fashola boarded on a huge infrastructure renewal of Lagos metropolis. The main focus formed the key city highways.
The Fashola administration has also seen a great progress in the rural area, as over 110 rural development projects were finished under the rural water and sanitation structure.
Still on his achievement as a former governor of Lagos state; given the generally acclaimed status of education in the improvement of the society, the Fashola government has given education the attention it earns. Later, the reintegration and creation of well-furnished new blocks of classrooms, distribution of free text books, provision of well-equipped workrooms and libraries, provision of buses for teachers and students to comfort transportation problems, re-launch of uniformed voluntary administrations in the state's public schools, implementation of Teachers' Salary Scale (TSS) for teachers in the state public schools, evolvement of the 'Adopt a School Initiative', among others.
With all these vivid achievements, don't you think the "Pig" deserves to be honored? Don't you think the Pig is better than the wrestler? Don't you think the pig deserves to be given a national audience? This is a call for Nigeria to say no to any deceptive wrestler who believes he can use a deceptive tactics to defeat the Pig who is already happy.
Am glad Nigerians are seeing clearly those involved in the National Assembly crisis. They can now see it clearly with their eyes those stratagems interfering in the affairs of the open Nass. Those people who wants to have it all by going against the wish of the people and imposing their puppets as candidates on the people based on their own egocentric reasons not competence. This is outrageous.
These is also a call to the president of Nigeria, President Muhammadu Buhari to embrace with the leadership of NASS which has earlier shown interest to partner with his administration by their openness and accountability of NASS and quality legislations, so as to bring peace and making a better reforms that will favor the masses. I see governance and leadership as the yin and the yang of successful country. If you have leadership without governance you risk tyranny, fraud and personal fiefdoms. If you have governance without leadership you risk atrophy, bureaucracy and indifference.
National Assembly crisis has partly been over as the members of the Unity Forum embraced peace with the leadership of the Senate by rallying round him and President Muhammadu Buhari will soon appoints his cabinet in which the "Pig" will soon get a juicy appointment. Nigerians will be happy again and the wrestler will be disappointed by watching how the Pig gets happier when the ministerial list is out.
Ridwanomooba
Sudrid2015@gmail.com
Support InfoStride News' Credible Journalism: Only credible journalism can guarantee a fair, accountable and transparent society, including democracy and government. It involves a lot of efforts and money. We need your support. Click here to Donate