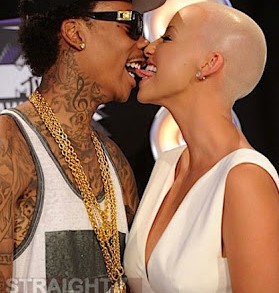 Just when we were beginning to think that the war of words which had erupted on Twitter between rappers, Kanye West and Wiz Khalifa, had come to an end, Media Takeout says otherwise.
Media Takeout only recently reported that Khalifa who had been mostly quiet while Kanye had ranted at him in a 16 point scathing shot, had reportedly played a copy of Kim Kardashian's sex tape during his concert, and on a jumbo screen no less!
Witnesses at the concert which had taken place in Rio De Janeiro, Brazil, reportedly claim that Khalifa had ranted with the images serving as a backdrop during his performance.
"Ray J's d**k deserves an Oscar for its performance."
Wiz Khalifa is alleged to have ranted during his performance, going on to add:
"I would have left Ray J's d**k out, if Kanye left out my kid."
Although there are no images to prove these claims, some tweets have pointed to the fact, as friends and fans alike have been tweeting at the father-of-one to confirm the incident.
The war had begun on January 27, after Kanye has changed the name of his new upcoming album from "Swish" to "Waves" with Khalifa calling him out, accusing him of ripping off, rapper, Max B's song.
Kanye west had let loose a scathing string 16 point insults, dragging Khalifa's ex and baby mama, Amber Rose as well as their son, Sebastian, into the mix.
Kanye had later deleted most of the tweets which he referred to as 'negative', going on to apologise for bring the 2-yr-old into the beef, Amber had been quick to blast him.