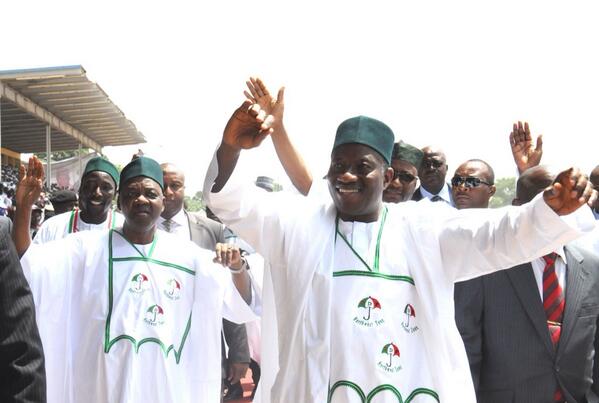 President Goodluck Jonathan, in Washington D.C., United States, on Monday, said the era when a few politicians could manipulate election results are gone forever in Nigeria.
The president, who made this known at a meeting with Nigerian professionals in the United States, reaffirmed his commitment towards ensuring that electoral process in Nigeria are free, fair and credible.
The president assured that in keeping with the pledge he made in 2011, which had been fulfilled in recent elections in Edo, Ondo and Ekiti states, the Federal Government would take all necessary steps to ensure no individual, group or political party was able to thwart the legitimate choice of genuine voters in the governorship election in Osun State, on Saturday.
"The issue of credible elections must be institutionalised in Nigeria. Our electoral processes were not very good or credible when we came into office, but as I promised, we have been working very hard to change things and ensure that our elections are more credible, that every legitimate vote counts and that results are acceptable to the electorate.
"I promise you that the Osun governorship election will be very free, fair and credible", President Jonathan told the gathering, while responding to questions and comments on topical issues in Nigeria.
Jonathan said the Federal Government under his leadership would continue to give the highest possible priority to policies and programmes that would lead to the creation of enough jobs for Nigerian youth.
"Job creation is a challenge to every government in the world. We are doing all that we can to tackle the problem in Nigeria, because we know that we have a very youthful population and if we do not create enough jobs to meet their needs, the country will be in trouble", he said.
The president also spoke of his administration's efforts to improve standards and access to educational institutions in Nigeria, address the national housing deficit and further empower women.
He thanked Nigerian professionals abroad for the patriotic support for his government and urged them to continue to show love and concern for the well-being of their fatherland.
President Jonathan later received and commended Nigerians who are participating in the Washington Fellowship for Young African Leaders, a leadership programme sponsored by the US government to train young African professionals in American universities, government departments and private sector.
Out of the 500 available spaces on the programme, 45 were won by young Nigerians in a competitive selection process.