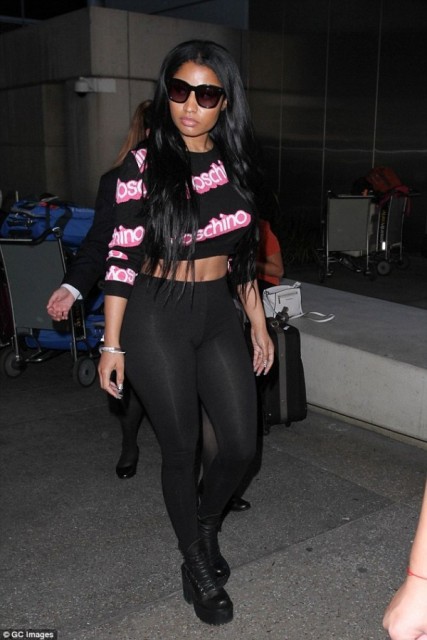 THERE WAS ONCE a time when Nicki Minaj held a dear place in many of our hearts.
Who doesn't have a few fond memories of 2010 when seemingly everybody in the country knew all of the words to Super Bass? Minaj followed up Super Bass with a handful of other huge hits. It wasn't until a few years later that Nicki Minaj began to expose herself as a bit of a dope.
For instance, in June 2013, the 35-year-old made some comments in which she shamed sex workers – a group of people who don't need any more stigma to make their work and lives more difficult. Here's what Nicki said:
"Maybe I was naive, but I didn't realise how many girls were modern-day prostitutes. Whether you're a stripper, or whether you're an Instagram girl – these girls are so beautiful and they have so much to offer. But I started finding out that you give them a couple thousand dollars, and you can have sex with them. It's just sad that they don't know their worth. It makes me sad as a woman. "
There was plenty of backlash from people who found Nicki's comments to not only be patronising, but fairly hypocritical too. As Nylon pointed out at the time, "Sex work is like any other type of job and sex workers are like any other professionals; some enjoy the work, and others don't but do it for the money. Regardless of their motivations, nobody should be looked down upon for working."
Besides looking down on sex workers, Nicki was also accused of using homophobic lyrics on her latest album Queen, which was released in the middle of August. Fans on social media were very disappointed to learn that the album featured Minaj referring to people as 'sissies'.
"Who want it with Nicki now? / I smoke 'em like hippies now / They see me say 'Yippie' now / Home runnin' like Griffey now / They switchin' like sissies now / You n***as is iffy now. "
On top of her SWERF-y comments and casual homophobia, Nicki Minaj upset some Asian fans with the single Chun-Li and the subsequent music video which perpetuated some racist stereotypes. The Chun-Li music video was followed by a #ChunLiChallenge on social media, which had fans also taking part in some disrespectful practices.
In Japan, sticking chopsticks in your hair is considered to be extremely disrespectful. People on the internet lost their shit when Emma Roberts decided to wear chopsticks in her hair at the Met Gala. After an onslaught of angry comments, Emma decided to take the chopsticks out of her hair before she even made it to the red carpet.
This week, we learned that rapper XXXTentacion admitted to stabbing eight people and abusing his ex-girlfriend in a statement that was recorded before his death. A man identified as XXXTentacion by Miami-Dade County's state attorney bragged about a violent attack he took part in:
In life and in death, Nicki Minaj spoke highly of XXXTentacion. Following his death, Minaj said "XXXTentacion may not have been the biggest artist, but [his murder] hurt us like we knew him, or like we were the biggest fan." Sure, you could ask "How was Nicki Minaj supposed to believe the allegations against XXXTentacion?" What you should really be asking is why it took a voice recording of XXXTentacion admitting that he was abusive for you to believe his victim.
Nicki's support for XXXTentacion isn't just a once-off mistake that she made. This year, Nicki released her single FEFE with rapper Daniel Hernandez, known by most as 6ix9ine, or Tekashi69. Hernandez, who is not black, has been making a living while liberally using the N-word in his music. Oh, and he also pled guilty to a felony count of use of a child in a sexual performance, after he filmed himself with a naked 13-year-old girl and distributed videos of the incident online.
He has yet to be sentenced for this crime, but coincidentally sentencing is scheduled to take place today. The Manhattan district attorney's office said that Hernandez could face up to three years in prison and be listed at a sex offender, depending on how his plea bargain works out.
Support InfoStride News' Credible Journalism: Only credible journalism can guarantee a fair, accountable and transparent society, including democracy and government. It involves a lot of efforts and money. We need your support. Click here to Donate