30 September 2014 – Addressing the General Assembly this morning, Suriname's Foreign Minister Winston Guno Lackin called on the United Nations to "develop the muscles" needed to democratize itself and move away from the "restrictive" veto power.
The Latin American and the Caribbean region was a "nuclear free" zone, he said, adding that political interdependence and regional organizations have become the driving force of mutual respect and mutual benefit. On a national level, Suriname has recently reached an average per capita income of approximately $10,000 with its GDP primarily based on the mining sector, which is responsible for 90 per cent of total export revenues.
Minister Lackin expressed concern that Suriname's reclassification as an upper middle-income country could limit its access to concessional financing, which "contradicts our aspirations and endeavours to sustain the above-mentioned achievements." A classification solely based on statistics, and not on socio-economic reality, can never serve the objective of sustainable development aimed at human development, Mr. Lackin added.
He stressed the need to curb carbon emissions, and protect Suriname's forests which cover about 90 per cent of the country and absorb 8.8 million tons of carbon. He warned that a sea level rise will severely damage its coastal ecosystems and may even destroy over 40 per cent of its GDP. It is "disturbing" to experience the serious lack of international commitment in taking the proper measures to avoid the pending disasters.
The Minister of Foreign Affairs of Belize, Wilfred Elrington also said small countries like his own are disadvantaged by the lack of resources and human, financial and technological capacities, which are only compounded by the increasing effects of climate change.
Belize welcomes the UN multilateral legal framework of debt restructuring and hopes it will lead to a robust treaty that will increase the efficiency, stability and predictability of the international financial system. Following the 2008 financial meltdown, there have been "unmistakable and troubling indicia of donor fatigue and a tendency towards isolationism," he said.
Climate change is the biggest threat to the Central American nation. "Horrendous" devastation is already occurring around the world caused by extreme droughts, intense rainfalls, floods, and hurricanes. Belize is now witnessing its share of climate change effects including coral bleaching, coastal erosion and flooding, and it is forecasted that next year the entire country will be visited by severe drought.
Also today, Nicaraguan Foreign Minister Samuel Santos López stressed the need to draw up a Post-2015 Agenda for sustainable development that embodies a just world order for inclusive growth that also takes measures to counter the threats of climate change.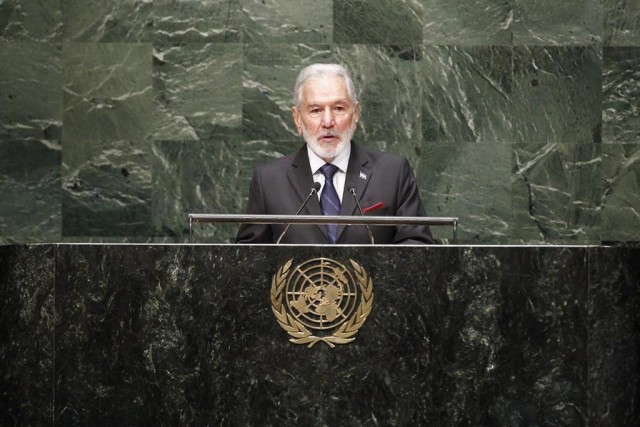 Foreign Minister Samuel Santos López of Nicaragua addresses the General Assembly. UN Photo/Cia Pak
"We find ourselves in a world fraught with many interrelated crises where unjust and unequal development between nations and peoples takes first place. The current unjust economic order, the product of imperialism and the present model of capitalism, has been unable to address these crises that are growing ever more frequent and serious," he declared.
"Every day the number of poor people in the world grows greater, both in the South and in the North, in flagrant violation of their most elemental human rights. We must work in unity to overcome these crises and in the shortest time possible eliminate poverty, hunger, malnutrition, diseases, wars and conflicts, and the policies of regime change and coups d'état."
These efforts must also eradicated violence against women and children, the negative impact of climate change, and such social scourges as slavery and drug and human trafficking, but "the eradication of poverty remains the greatest challenge facing the world," Mr. Santos added.
Paraguay appealed for a better distribution of funding to help poorer countries as part of the post-2015 agenda for sustainable development, underscoring the UN's role in this process.
"Paraguay needs international cooperation for its socio-economic priorities, development and strengthening of its institutions as well as preferential treatment for its most vulnerable sectors," Permanent Representative José Antonio dos Santos said. "We believe that the Post-2105 Agenda must be accompanied by a better distribution of international financial resources…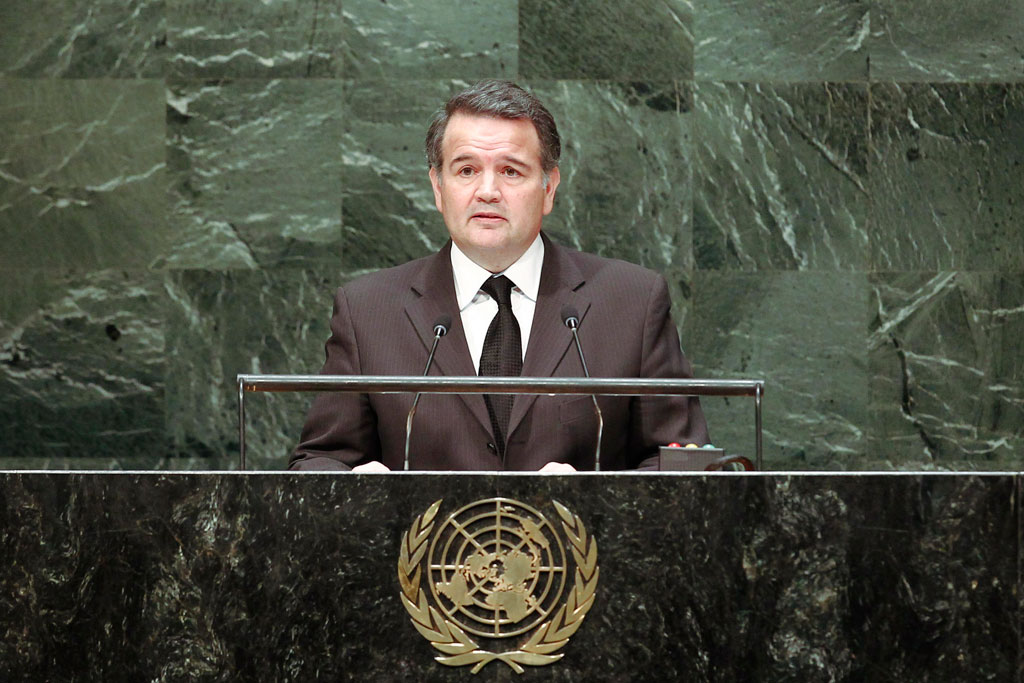 José Antonio Dos Santos, Permanent Representative of Paraguay, addresses the General Assembly. UN Photo/Amanda Voisard
"We are convinced that the United Nations, as the universal Organization, must play a central role in guaranteeing the success of our efforts to achieve a better international coordination and coherence in the economic and financial spheres."
Ecuadorian Deputy Foreign Minister Leonardo Arizaga underscored the need for the world's richer countries to help poorer ones counter the effects of climate change and fulfil the post-2015 Agenda for sustainable development.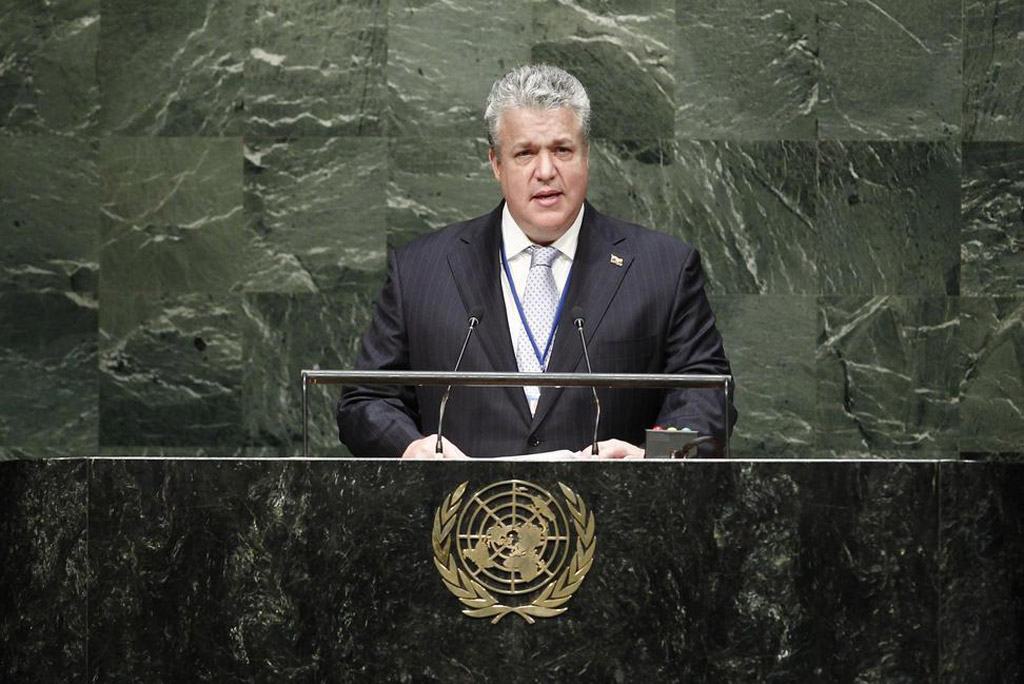 Deputy Foreign Minister Leonardo Arizaga of Ecuador addresses the General Assembly. UN Photo/Amanda Voisard
"The ability of developing countries to achieve the goals contained in the post-2015 development agenda will be directly proportional to the resources provided by developed countries for the proper implementation of plans and projects to address natural disasters caused by climatic factors exacerbated by humankind, in accordance with the application of the principle of common but differentiated responsibilities," he said.
He also called for UN reform, including enlarging and democratizing the 15-member Security Council.
Source: UN News Centre – Americas
Support InfoStride News' Credible Journalism: Only credible journalism can guarantee a fair, accountable and transparent society, including democracy and government. It involves a lot of efforts and money. We need your support. Click here to Donate