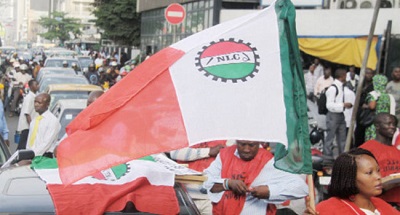 The warning strike called by Nigerian Labour Congress, NLC, and Trade Union Congress (TUC), over disagreements on the adoption of a new minimum wage for Nigerian workers was effective in some parts of the country.
News Agency of Nigeria (NAN) reports that business activities were paralysed in Sango-Ota, Ogun, due to the action as the premises of public institutions remained close.
On Sept. 12, NLC issued a 14-day ultimatum to the Federal Government to either agree with its demand for the tripartite committee deliberating on a new minimum wage to reconvene and complete its assignment.
Some of the places NAN visited were Ado-Odo/Local Government headquarters, the courts, Post office, Ansarudeen Secondary School and Primary Schools.
Some lawyers who came to the Magistrates' Court and High Court in Sango-Ota to transact business could not gain access to the courts as the gates, while school teachers in schools visited were at the gates sending wards home.
Some workers, who wished not to be identified, commended NLC and the organised labour for the strike aimed at ensuring that workers received decent pay.
They said the current pay of workers was not enough to take care of workers.
Also, in Adamawa, government workers joined the strike.
The state Government Secretariat in Yola was locked as was the case in Yola North and Yola South local governments secretariats.