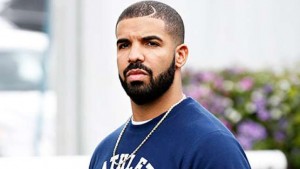 When Drake was a teen-ager, he spent two hundred dollars on a microphone that he believed was signed by Pusha T. Since then, the men have become messengers of two different rap paradigms. Drake is an invincible god of the Internet, a puckish tinkerer of its tropes. A lyric like "I only love my bed and my mama, I'm sorry" is, spiritually, an Instagram caption. The pastel video for "Hotline Bling" is, essentially, a sequence of gifs. Pusha T, by contrast, is a forty-one-year-old drug-rap classicist who first formed the group the Clipse, in Virginia Beach, with his brother, in 1992. The hostility between the two rappers dates back years, but it had been more or less dormant for a while—recently, it has thawed, producing a beef somehow both transcendent and petty.
On Tuesday, Pusha T issued the most vicious salvo yet, when he circulated the album art to a new dis track, "The Story of Adidon," which featured an old image of Drake, somehow left sitting on an unknown photographer's Web site. Drake wears a T-shirt with a Jim Crow illustration on it; his face is painted like a minstrel, his smile wide and grotesque. "I'm not an internet baby, I don't edit images…this is a real picture," Pusha T wrote, when he posted the image on Twitter. "These are his truths, see for yourself." It was a reversal of wits. Pusha T, the elder, had dug up the freshest poison. Drake, the meme-maker, had been ruthlessly memed. The photograph itself was so outrageous that Drake responded not with the venom of a battle rapper but with the anxiety of a pop politician. This was the genius of Pusha T's attack: it disparaged Drake's brand. Late on Wednesday night, in an Instagram story, Drake uploaded a lengthy note clarifying that, as many fans had suspected, the photo—one of a pair taken, in 2007, by David Leyes—was some sort of sophomoric satirical statement on the ways in which black entertainers are "stereotyped and type cast."
How did we get here? On midnight last Friday, Pusha T dropped "Daytona," his first release since 2015's "King Push—Darkest Before Dawn: The Prelude." The seven-track album is austere. The beats, produced by Kanye West in concert with Mike Dean, are shadowy and cavernous. Pusha T fills them with his flawless enunciation, his serene kind of menace. His aspersions are finely and wickedly cast. In "Infrared," the final song on the album, Pusha likens Drake's chart dominance to Donald Trump's alleged collusion with Russia. "It was written like Nas, but it came from Quentin," he says, referencing Quentin Miller, a collaborator of Drake's who is rumored to be his ghostwriter. (Miller has denied this.)
Drake has defanged that kind of dis before. Much of his dominance, since the early twenty-tens, has hinged on outfoxing artists who are stubbornly attached to rap's dated notions of authenticity. He has made a complicated virtue out of riding genres and trends, making him oddly impervious to attempts to puncture his credibility. Meek Mill found this out three summers ago, after he sought to expose Drake with the Miller ghostwriting allegations, and Drake shot back in a juvenile but charismatic two-song barrage, famously needling Meek Mill for being the tour opener for Nicki Minaj, who was his girlfriend at the time. Drake approached Pusha T's insults on "Daytona" with a similarly blasé bluster. The same day that the track was released, he responded with the "Duppy Freestyle." His flow on the song was lean and casual. He accused Pusha T of inflating his past as a cocaine dealer, and gloated about helping Kanye West on his song "30 Hours," from 2016's "The Life of Pablo." The next day, he doubled down, dropping "I'm Upset." He's barely rapping in it. "I'm upset / Hunnid thousand on my head, it's disrespect" sounds more like a whine. In Drake logic, this was a flex; even in attack mode, he can hardly be bothered. It's all a little funny to him. It rolls off his tailored tracksuit.
It turned out, though, that "Infrared" was bait. Having lulled Drake into a false and familiar sense of security, Pusha T rained on him with "The Story of Adidon," which premièred with the radio d.j. Funk Master Flex, another Drake antagonist. The song itself is a breathtaking display of cerebral cruelty. In a tick-tock sequence, Pusha tells Drake that his best friend and producer, 40, a.k.a. Noah Shebib, who has multiple sclerosis, will die soon. He criticizes Drake's father, Dennis, for abandoning him, and his mother, Sandi, when he was a child; he admonishes Drake for now parading Dennis in a "monkey suit" on Instagram. He claims that the rumor that Drake fathered a child with a French former porn actress, Sophie Brussaux, is true, that Drake is a "deadbeat" hiding the four-month-old, allegedly named Adonis, and that Drake had been planning to "début" the child this summer, through a photo shoot for the launch of an Adidas clothing line. (In May of last year, a rep for Drake said, "If it is in fact Drake's child, which he does not believe, he would do the right thing by the child.)
Running through the lyrics is a pointed attack on Drake's identity and relationship to race. Pusha uses the image of Drake in Sambo drag, deviously, along with the beat from Jay-Z's "The Story of O.J.,"a song about black self-loathing, to reawaken speculation that Drake, whose father is black and whose mother is white, suffers from a racial identity crisis. "Confused, always felt you weren't black enough," he raps. "Afraid to grow it 'cause your 'fro wouldn't nap enough." Pusha wants to talk about "character." "Drug-dealin' aside, ghostwritin' aside / Let's have a heart-to-heart about your pride," he says. It's brutal stuff. He is like a horror-movie psychiatrist, excavating a patient only to use deep-set pathologies against him. In a radio interview on Thursday morning, he called out Drake for remaining "silent on all black issues."
Rap beefs are lawless. They're not where you go to look for sportsmanship. Drake has not been challenged as ruthlessly before, but many other rappers have. Tupac Shakur infamously made fun of Prodigy's sickle-cell anemia. Ja Rule made a brief but vile suggestion about Eminem's school-aged daughter. Remy Ma criticized Nicki Minaj for reportedly financially supporting her brother, who had been arrested for the rape of a little girl. (In 2017, he was found guilty of predatory sexual assault.) Jay-Z once invoked Carmen Bryan, who was then the girlfriend of Nas, and their toddler, in an image so lyrically disgusting that his own mother made him apologize.
Many hip-hop fans live for the sport of warring masculinities, so often catalyzed by digs at women and family, who are the weaknesses of bragging men. (Pusha T has said that Drake mentioning Pusha's fiancée, Virginia Williams, in "Duppy Freestyle" "causes all bets to be off.") I could do without the tedious, knee-jerk misogyny that often accompanies these contests. But unvarnished hubris and unhinged pomposity—they are thrilling shows. And so is hypocrisy. You'd have to be naïve to think that Pusha T's "truth-telling" is motivated by anything like righteousness, but "The Story of Adidon" does manage to cast Drake's calculatedly magnanimous image in a farcical light. In the video for his song "God's Plan," from earlier this year, Drake plays a genial, emotional baron, doling out a million dollars to grateful Floridians. In "Nice for What," released in April, he is a benevolent feminist cheerleader, encouraging women to be independent and happy. "The Story of Adidon" wants you to remember that, when it comes to Drake, nothing is real.
Support InfoStride News' Credible Journalism: Only credible journalism can guarantee a fair, accountable and transparent society, including democracy and government. It involves a lot of efforts and money. We need your support. Click here to Donate