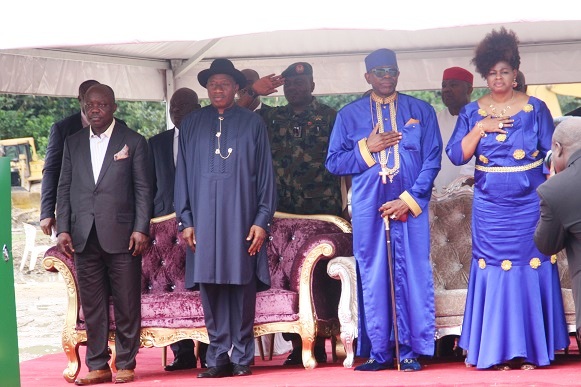 President Goodluck Jonathan has performed the ground breaking ceremony for Eagle Heights University at Omadino and said that the University is one of the series of projects that is positioning Delta State as hub for investment.
According to the president, Delta State is host to two Federal Institutions, the University of Petroleum, Effurun and the Maritime University which he performed its ground breaking ceremony at Okerenkoko, Warri South-West Local Government area of the state on May 10.
He stated that he will soon perform another ground breaking ceremony for the Gas City, Ogidigben and observed that these projects are positioning the state to be the investment hub of Nigeria and Africa.
The President said the $16 billion Gas Revolution Industrial City, which will also be in Warri South-West Local Government Area, will be a blessing to Nigeria, asserting that we cannot continue to export raw materials.
He observed that Governor Emmanuel Uduaghan's administration is also, complementing Federal Government activities by providing good road networks and disclosed that the Federal Government will not fail in its commitment to make education available to all Nigerians.
The President stated that due to his administration's commitment to ensure that all states of the federation has at least one federal university, 14 universities have been opened in different states of the federation, two conventional and one for the training of Policemen, noting that the universities must have at least one faculty to deal with the peculiar challenges in the areas where they are sited.
He observed that the technological world is driven by knowledge which can only be acquired through proper education, reiterating that his administration was committed to position the youths of the country for future challenges through proper education.
He noted that despite the 40 private universities complementing states and federal universities in the country, Nigeria still needs more universities to cater for the teaming youths who are seeking for admission into institutions of higher learning.
President Jonathan commended Pastor Ayo Oritsejafor, founder, Word Of Life Bible Church and President, Christian Association of Nigeria (CAN), for venturing into the education sector, saying that expectedly, the institution will not only ensure academic excellence but will imbue in the students, good moral and spiritual upbringing.
Governor Emmanuel Uduaghan at the occasion, stated that the Niger Delta Development Commission (NDDC) is set to construct N150 billion road to link Omadino, Ogidigben and Okerenkoko, assuring that his administration will also, complete the on-going road project linking Omadino to the Warri/Sapele Dual Carriage road
He reiterated that the Delta State government will continue to partner with private universities in the state to enable them succeed in their mission of providing quality education to the people.
Pastor Oritsejafor in an address said the university was designed to improve the quality of education in the country by equipping graduates to be independent and called on lovers of education to partner with World of Life Bible Church to build a world-class university.
Delta State Government Press Release