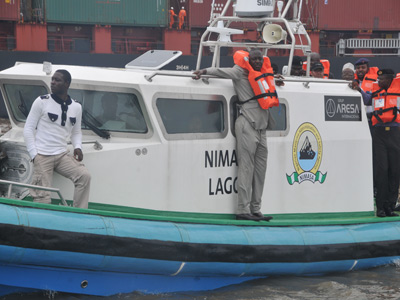 The Director-General of the Nigeria Maritime Administration and Safety Agency (NIMASA), Mr. Ziakede Patrick Akpobolokemi has said that the shipyard being constructed by the agency in Delta State is intended to activate a successful coastal trade regime that will give life to a robust indigenous shipping industry capable of employing about five million Nigerians.
Mr. Akpobolokemi ,while receiving the Niger Delta Achievers Merit Award (NDAMA) for excellence in leadership and administration said in 10 years Nigeria will become like the Philippines and noted that most of what the present administration is doing today will outlive it and it is important that Nigeria take its place in the committee of states.
He maintained that contrary to some industry opinion, one of the set goals of NIMASA under his management was to aid the establishment of a robust cabotage trade controlled by indigenous ship owners for which reason the agency had to construct the shipyard to take care of ships that will operate in coastal trade as first phase and ocean-going vessels as second phase.
The NIMASA boss said the shipyard will be handed over to very competent private sector shipyard managers in the world and added that NIMASA is also currently working with the private sector to float a national carrier and positive results will be achieved in this area in a few months from now.
Mr. Akpobolokemi, who also delivered a speech on "Peaceful Coexistence: A Panacea for Development", said the training of 2,500 youths in various maritime fields abroad, the various maritime institutes set up by the agency in four Nigerian universities with plans to establish same in two more universities in Gombe and Anambra and the building of a maritime university in Delta State which he said would cost about N60 billion were all geared towards making Nigeria a maritime hub.
While explaining that the amnesty programme has been successful in increasing oil production, the NIMASA boss noted that for all the programmes and projects in the maritime sector anchored by the agency, the federal government was spending not less than $1 bn, made possible by the peaceful atmosphere in the oil producing areas (Niger Delta).
He finally noted that for Nigeria to be successfully located in the MINT economy as prescribed by Jim O'Neil, the country needs peace.
Delta State Government Press Release