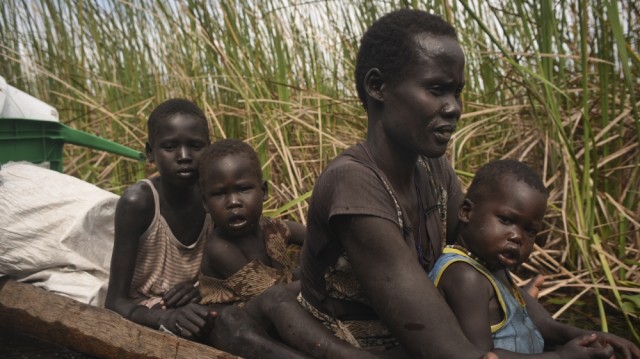 After two months of dipping and diving in the shallows of South Sudan's swamps, surviving on water lily roots and fish, James Gul is hungry and desperate.
He hasn't eaten in two days and doesn't know when he will get his next meal.
The small patches of land that dot the world's biggest wetlands have shielded his family from violent attacks on his village but the islands cannot protect them from another threat: hunger.
"I don't know what I will do. Before the war, there was no food issue. We would harvest the crops when they were ready."
In September, James and three of his six children fled Thongok in Unity state, melted into the marshes and paddled down to the island of Kok. Hundreds of scared civilians are already living on the island, and as its population grows, so too does the need for food.
Usually he would rip out the root from under a water lily stem, dry it out for a day and either grind it up or boil it before eating it. But now with the dry season under way, water levels are receding and even the water lily is becoming scarce.
So he's on the move. He was on the island of Nyoat where Al Jazeera spoke to him and is trying to find something to eat to take back to his children. So far, he has found nothing.
The 29-year-old is one of at least 40,000 people who have been identified as level five or "catastrophic" by the Integrated Food Security Classification (IPC) system which monitors food security. That means they are on the verge of starving to death.
For many of these people, going hungry is the final hardship in what has been a journey marked by brutality and upheaval.
James left Thongok after he says it was attacked by men wearing army uniforms.
"They came with big guns and vehicles and would shoot people. They tried to kill everyone, even the young children and they looted everything."
He and his wife tried to escape with all of their children, but he says there wasn't enough room for all of them in the canoe. So the family was split. His wife and three of their children were left behind.
Despite a peace deal being signed between South Sudan's President Salva Kiir and rebel leader Riek Machar in August that was supposed to end the two year civil war, violent attacks have persisted, especially in Unity State.
According to a report in July from the Geneva-based Small Arms Survey, an organisation that monitors armed violence in conflict zones around the world, villages in the state have been burned to the ground with cattle looted and crops destroyed or taken.
It added that the effect on the civilian population in Unity State is "exacerbated by the fact that it is planting season, and this disruption of the agricultural cycle will have an impact on food supplies…"
Food shortages start to bite
About a two-hour canoe ride downstream from Nyoat and nestled on the fringes of the Sudd wetlands is the town of Nyal in Panjiyar county.
Many people living on the islands venture there to get food from relatives but it is rebel-held territory and cut off from the capital and its usual source of supplies.
The county commissioner says the arrival of 53,000 internally displaced persons (IDPs) from other parts of the state has seen Nyal's population nearly double in size and that's increased the demand for food.
"The biggest problem here is hunger," says John Tap. "There is no food."
He told Al Jazeera that two young children had starved to death in the previous two days. "What can I do? I have nothing to give them."
While the food shortages are biting hard in Nyal, the situation is being felt across the country. Statistics for December estimate 2.4 million people face severe hunger.
According to the World Food Programme, food insecurity has been a persistent problem. At least 10 percent of South Sudanese have suffered food insecurity for the past five years. But even by these standards, this year has been exceptionally bad.
Food insecurity has increased by 80 percent since September last year, according to the United Nations Office for the Coordination of Humanitarian Affairs (OCHA).
Complex factors of starvation
Serge Tissot, the representative for the UN Food and Agriculture Organization in South Sudan, says there are three main factors driving food shortages: conflict, price hikes, and drought.
Conflict in various forms across the country has displaced people, forcing them to abandon their crops or has prevented them from being able to plant at all.
He says for people living in the islands of Sudd Swamp it means there is no access to a plot of land to begin planting again. And as the dry season continues, fish become harder to find and the water isn't deep enough for water lily to grow.
"These people are in famine. It is not a declaration of famine but this specific group are facing famine as they have no access to food because there are no grains and no production," Tissot says.
The security situation is also affecting the transport of goods. There is a steady flow of supplies from Kenya and Uganda but pockets of fighting across the country – many of which are tribal and not connected to the civil war – are making the roads dangerous.
This lack of security – alongside the weak currency value against the US dollar – is pushing up the price of food and limiting the purchasing power of families. Even in previously unaffected areas like the Greater Bahr el Ghazal states, people are now feeling the pinch.
At the Gumbo market in the capital Juba, the cost of basic goods has more than doubled.
"Everything is becoming more expensive," says vendor Mohammed Bilal. He says he used to sell a type of flour called Azam for 15 South Sudanese pounds ($2.40). Now it costs 35 South Sudanese pounds ($5.50).
Drought has made a difficult situation even more dire.
The rainy season that is supposed to come in June and July never properly arrived in the state of Eastern Equatoria due to the El Nino pattern that also caused drought in Ethiopia and Uganda.
Planting season usually takes place between April to July with harvesting from September through to November. But this year, because of the drought, there were less crops to harvest and therefore less food.
Tissot says the people of South Sudan need peace, financial support and humanitarian assistance to rebuild their lives.
"The situation in 2016 will be worse. The country cannot survive with 2.5 million displaced people. It is not workable. People must go back to their crops, start to grow their food … but we need peace to do that," Tissot told Al Jazeera.
"People need financial support, they've lost their house, they've lost their seeds, and they've lost their livestock… It is true in the cities and it is true in the countryside."
It is also true for the town of Nyal which is running out of time.
"We urgently need a food drop," says County Commissioner John Tap. "If the international community waits too long, they will find nobody left here to save."
Follow Caitlin McGee on Twitter: @MsCaitlinMcGee
By Caitlin McGee via [Al Jazeera]
Support InfoStride News' Credible Journalism: Only credible journalism can guarantee a fair, accountable and transparent society, including democracy and government. It involves a lot of efforts and money. We need your support. Click here to Donate