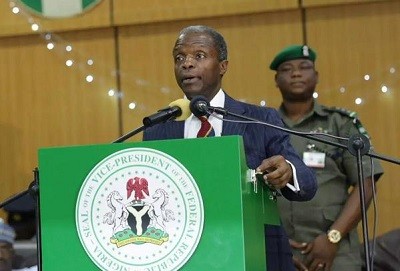 Vice-President, Prof. Yemi Osinbajo (SAN) yesterday decried the low conviction rate in high-profile corruption cases, saying there was still a long way to go.
He said since the Economic and Financial Crimes Commission (EFCC) was established in 2002, only eight high profile cases had been successfully concluded despite of widespread corruption.
According to him, of the eight cases, one was overturned by the Supreme Court on technical grounds, which means only seven major convictions were secured after trial in 13 years.
"We must do more. This is not a campaign for conviction at all cost in high profile cases, but a campaign that the law must be allowed to follow its course and high or low profile corruption cases must be concluded within the time allotted by law," he said.
The Vice-President spoke at a workshop on sections 306 & 396 of the Administration of Criminal Justice Act (ACJA) 2015 and Delay of Corruption Cases, organised by the Centre for Socio-Legal Studies (CSLS) and the Presidential Committee on Corruption (PAAC) in Abuja.
Osinbajo, represented by PAAC Chairman Prof Itsay Sagay (SAN), attributed the delays to lawyers' breach of  ethical rules to defend clients, overcrowded courts, compromised judicial officers, ill-equipped investigators and prosecutors, among others.
"We will not build this nation as a citadel of justice in one day or 1,000 days, but it is important that we start now and we shall not relent until we achieve total reform and recovery from the present broken and failed system," he said.
He said the ACJA had provisions, which ensure that impunity, private profiteers and others who rob the nation was brought to an end.
"We must meet the challenge of the moment with the resolve to set up standards for public and private sector conduct guided by strong moral values, but also backed by a legal system strengthened to confront corruption, remaining unflinching and impervious to pressure to deliver anything less than justice.
"I believe it is with this in mind that the ACJA was passed. Early moves, including the setting up of PAAC, show a commitment on the part of the Federal Government to fight corruption as a priority by dealing with the systemic problems involved in the administration of justice as well as getting the best minds working on short, medium and long term solutions to this dreadful malaise," he said.
Attorney-General of the Federation (AGF) Abubakar Malami (SAN) said the ACJA came into force at a strategic period when the government was determined to fight corruption.
"There is no better time than now for this law to come into force given the determination of government to deal holistically with crime and criminality in our society," he said.
According to him, besides enforcing the law, which has provisions for speedy determination of cases, anti-corruption agencies will be strengthened.
Malami said: "The bane of the fight against corruption in Nigeria is, therefore, no longer connected to the inadequacy of penal laws, sanctions, or lack of institutional framework. Rather, attention must now be directed to strengthening the capacity of the enforcement agencies to do well to apply this law to detect and prosecute offenders.
"It is, in fact, only the guarantee and certainty of detection, arrest, prosecution and conviction that will indeed deter potential corrupt individuals. The good news is that the Muhammadu Buhari administration is committed to the fight against all forms of criminalities at all times."
Other speakers at the workshop included Chief Judge of High Court of Federal Capital Territory, Justice Ishaq Bello; CSLA President Prof. Yemi Akinseye-George (SAN); PAAC Secretary Prof Bolaji Owasanoye; Prof Fidelis Oditah (QC/SAN); activist-lawyer Femi Falana (SAN); Chief Joe Kyari-Gadzama (SAN), among others.
[The Nation]
Support InfoStride News' Credible Journalism: Only credible journalism can guarantee a fair, accountable and transparent society, including democracy and government. It involves a lot of efforts and money. We need your support. Click here to Donate