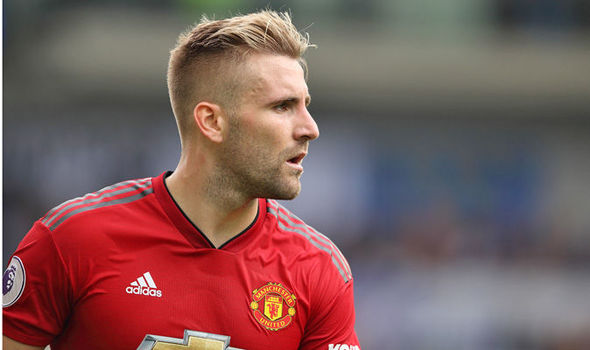 Manchester United defender, Luke Shaw has said the entire squad is heading in the same direction under club manager, Ole Gunnar Solskjaer.
Shaw, whose form has improved in recent weeks, believes Ole has been responsible for lifting the mood in the dressing room since he came in.
According to him, Ole has been brilliant as manager and the players enjoy working under him because he puts a smile on their faces.
Shaw added that even if he has received a lot of stick at Mufc since he joined from Southampton, he tries to take it well all the time since criticism is expected at Old Trafford because the standards are high.
His words, "He has been unbelievable and has put a smile on our faces,"
"He has been brilliant and the lads are really enjoying it, moreso now that we are getting better results.
"We have got an important second half of the season, Ole has been great and we enjoy working under him."
"I think I'm still quite young and I've got a lot to improve on. I want to improve as a player day in day out and keep working hard.
"I don't need to pay too much attention to what people say in the media, it's sometimes good and sometimes bad. So I've got to focus on myself and the people that matter.
"I'm feeling really good and can't wait to get back out on the pitch. I've had a lot of stick and if you come to Manchester United you need to take that – people are always ready to criticise you.
"There are only high standards here, so we need to be strong, but we need to be on that pitch when it matters and give it everything we've got.
"It is completely different to other clubs and when you sign that piece of paper you know how different it is going to be. You have to be able to deal with it. If you are not strong mentally and confident you will struggle to deal with it. You have got to focus on tomorrow right now and do our best."
On the UEL, "It is a massive ambition for me. I was there for the Europa League final, and the feeling, even though I wasn't on the pitch was a feeling I have not felt and I wanted more of,"
"I wasn't involved and that is what is pushing me on, even more, to get into this final, and others.
"We should be in finals and we should be in all competitions until the end. We are very confident at the moment."
"We are still in two cup competitions and the league is still a very high priority. We have got a good chance to get in the top-four and we have a very good chance in both cup competitions. We want to win all of them."